Welcome to Bakers Man Online
Welcome to The Bakers Man. We are a full service retail bakery specializing in all types of cakes, Pastries, Special orders; including Fresh baked bread, Corporate cakes, Cookies, what ever your special order requirements are we can baked for you.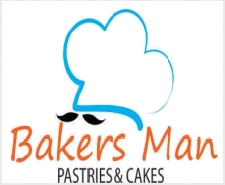 We are committed to very high quality and carrying on the culinary traditions of the best in the industry. Our bakery items are prepared fresh daily by our skilled staff in our Magodo, Lagos bakery. In addition to producing fresh breads, cakes and pastries, our mission is to make Bakers Man a household brand name in the Pastries, Food and Confectionery industry around Lagos.
Who We Are
Bakers Man Bakery Produces exquisite fresh baked cakes, pastries, cookies, and delicious snacks. Everything eatable at Bakers Man Bakery is handmade on the premises with fresh & quality ingredients. Whether you are planning a special event or searching for that special cake for your wedding, birthdays and anniversary we can help!
Owner Managed & Operated, Bakers Man is a family business lead by a trained pastry chef, baker and food technologist. Since it's inception, the bakery has been managed with industry standard catering. With an eye for detail and a heightened sense of creativity and elegance, many have called Bakers Man team of professional the best confectioners in Lagos City.
As we love to say … eat your cake and have it!
Thanks for stopping by and don't forget to leave us some sweet words. We always like to hear from our
Customers. Thank you!